Hall Road Rangers 2, Staveley Miners Welfare 1
Tuesday October 10
Toolstation NCEL Premier Division
Haworth Park
By Neil Winsor
Photograph supplied by Lewis Scott
PHOTO: James Piercy vanishes under a sea of blue as Hall Road regain the lead on their way to the 2-1 win over Staveley last night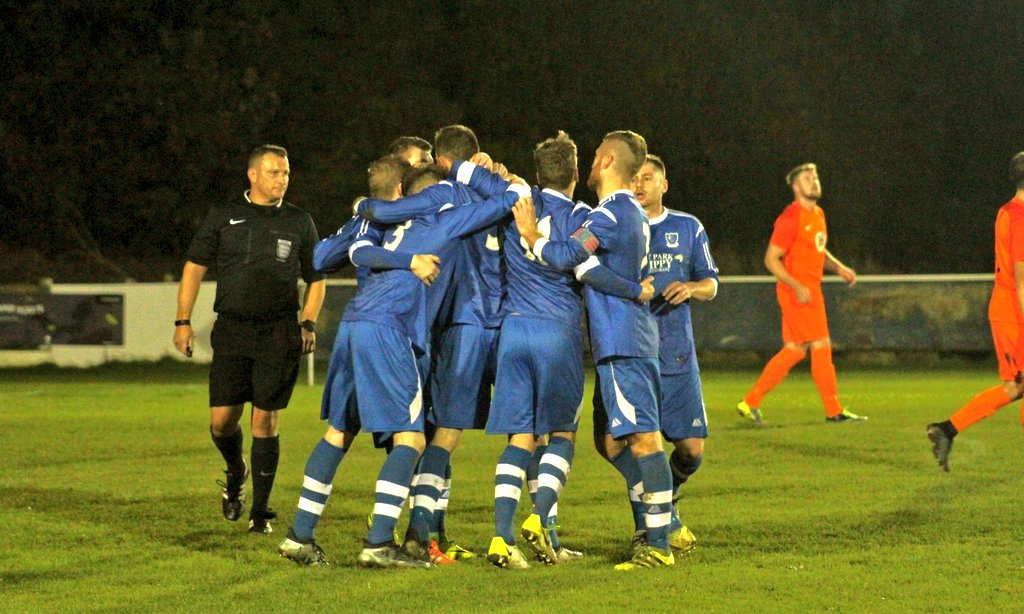 A DETERMINED and gritty Hall Road Rangers performance was enough to record a vital three points at a blustery Haworth Park last night.
In strong winds the quality of football on show suffered somewhat, however a 'nuts and guts' display from Rangers, saw them record back to back wins for the second time this season and climb into the top half of the NCEL Premier Division.
It was through the most unlikeliest of sources though that helped guide Hall Road to their fifth win of the season, as goals from defensive pair Louis Bruce and James Piercy led to the win against a stubborn Staveley side.
Playing into the wind in the first half, Tom Bennett continued to skipper the NCEL First Division champions, whilst Joe Piercy was handed a senior debut in between the posts for Rangers.
Fraser Hanson slotted in at left-back as Jack Binns was restored to the starting line-up but in a more central role in the hosts midfield.
Conner Harman dropped down to the substitutes bench whilst James Tullett another prospect from the reserves. was also named as a substitute.
The first quarter saw both sides duelling with the conditions, rather then each other as chances were at a premium.
The visitors threatened first, however Binns was on hand to clear any immediate danger, and on 12 minutes enigmatic striker Josh Batty nodded just past the wrong side of the post.
Rangers went close again four minutes later, from another header, this time from Danny Chambers however he could only watch his effort rebound off the crossbar.
Both sides energy and effort levels were at the maximum and it was midway through the first half when there was a lengthy stoppage.
Chambers landed awkwardly after competing for a header landing awkwardly on his right arm.
After writhing in obvious pain, Chambers was treated by physio Ian Furburn, who appeared to try and work Chambers elbow back into its socket, a clear early sign Chambers had indeed dislocated his elbow.
The former Goole striker was replaced by Gareth Owen, and was later taken to hospital.
At the other end, young Joe Piercy was performing well in his senior debut and despite a brief lapse in concentration, gifting the opposition a corner, the young stopper pulled off a fine save from a powerful free kick, positioning himself perfectly to snuff out the dangerous strike.
The hosts goal did lead a charmed life though six minutes before the break as somehow Staveley failed to find the net after an almighty scramble, as Rangers defence stood firm to keep the ball out.
With the first half drawing to a close, Staveley opted to shuffle their pack, replacing Josh Barker with Callum Lytham.
Piercy was again busy denying Bell and then Baskerville before the telling moment of the first half came seconds into the first minute, of three, in added time at the end of the first half.
A pin-point corner from leading scorer Chris Spinks was met mercilessly by full-back Louis Bruce who's bullet header was guided to perfection into the corner to nudge Rangers ahead.
In an even first half, Hall Road probably shaded the second half, a view partly shared by Rangers boss Bill Gill.
James Piercy was unfortunate not to be able to properly reach a Spinks cross shortly after the break, but it was a lapse in concentration which was to cost Hall Road the lead four minutes into the second half.
Adam Baskerville punished indecisive defending and a lack of communication.
Baskerville however took his goal well to fire 'The Trojans' level.
The Hall Road defence redeemed themselves almost immediately after though, by clearing off the line before a Josh Batty header was tipped over the bar by Lewis Naylor, as Hall Road began to gain a stranglehold on the game once more going into the final twenty minutes.
Then with 17 minutes remaining, Hall Road regained their lead, which their domination of possession had warranted as James Piercy completed a satisfying night in his family household, poking home from inside the penalty area to net what would prove to be the winner.
The final quarter of the game was not plain sailing though for both sides, as at each end both sides had two goalmouth scrambles to deal with.
The final five minutes also saw Rangers hand another debut, this time to James Tullett who has impressed in the reserves, and it was to be Hall Road's night as they head into the second quarter of the season in an extremely satisfying position, leapfrogging over the evening's opponents into tenth place.
View from the dug-out – By Bill Gill
"Tonight was a typical non-league night with conditions playing a key part of the outcome.
The lads fully deserved the three points though and we had several chances in both halves, and we controlled the game throughout even when we where caught out so quickly after half time.
The boys rolled up their sleeves and won the battle.
We also had young keeper Joe Piercy from the reserves making his debut tonight and he did himself proud doing everything asked of him.
We also fielded another young reserve lad James Tullett, making his debut and again he did himself proud.
It's great to see these young lads getting valuable experience at first team level and it shows the clubs intent over the next few seasons."